URBAN / TRANSPORTATION MODELS
CUBE CARGO SPORT DUAL HYBRID 1000
SRP £5,599 - 3 colour variants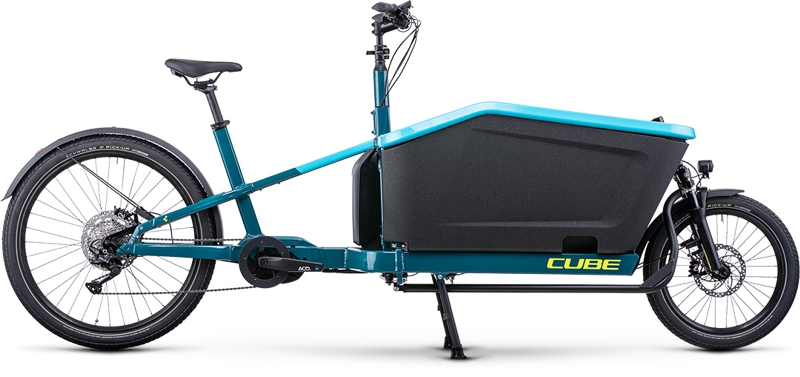 Details
No matter what you need to carry across town, the Cargo Sport Dual Hybrid is here to make your life easier. With twin 500Wh batteries and a powerful, fourth-generation Bosch drive unit working with Shimano's smooth, reliable 10-speed Deore gears, it'll make light work of any errand. Add the optional rain cover for extra weather-proofing, or carry your kids in safety and style with the optional child seat - the large capacity cargo box is ready for just about any load. Strong Magura hydraulic disc brakes, grippy Schwalbe tyres and mudguards keep you and your cargo safe in all weathers. There's an LED lighting set front and rear so you can see and be seen, and the suspension fork adds some extra comfort.
---
CUBE COMPACT HYBRID 500
SRP £2,899 - 2 Colour Variations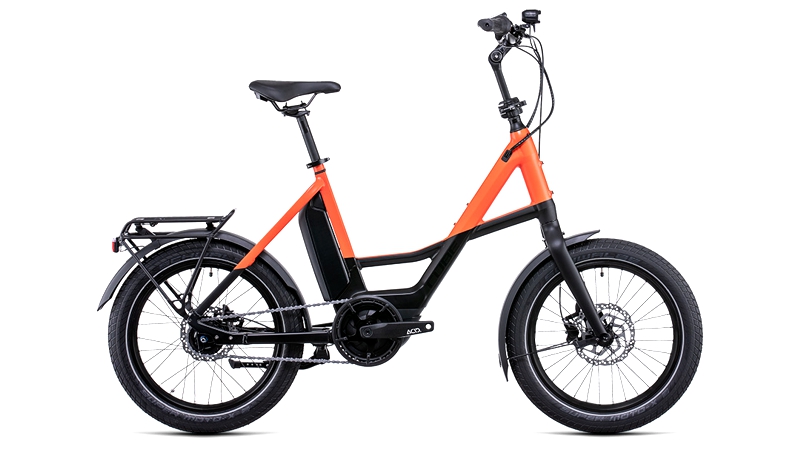 Details
Wherever two wheels can make your life easier, our Compact Hybrid will slot right in. The clever, compact design - the clue is in the name - and Bosch Performance drive system with easy-to-use Shimano 5-speed hub gears make traffic-dodging a breeze. There's a rack for your essentials, a kickstand for easy parking, mudguards to help keep you dry and a lighting system so you can see and be seen. Powerful Shimano hydraulic disc brakes ensure you can stop safely even when it's wet, and the easily adjustable handlebar makes it easy to get comfortable. You'll wonder how you managed without it.
---
CITY & TOUR
3 FRAME VERSIONS AVAILABLE FOR THIS RANGE:

EASY ENTRY
Quick, simple access for any rider thanks to clever frame design features.

TRAPEZE
Combines all the attributes of the classic Men's frame with classic looks and easier mounting and dismounting.

MENS
Men's (Diamond) frame is the versatile, comfortable and strong all-rounder for all occasions.
CUBE SUPREME HYBRID SLT 625
SRP £4,199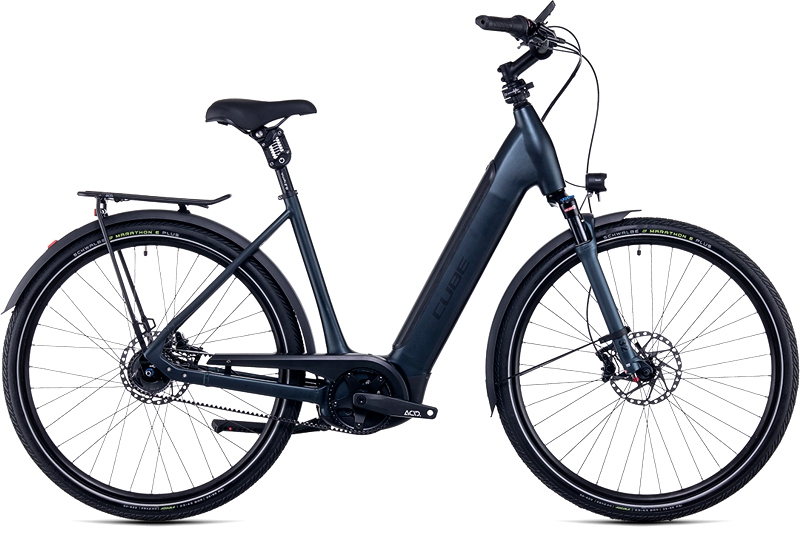 Details
If you appreciate the finer things in life, you'll love our new Supreme Hybrid SLT. For the best drivetrain performance we combined Shimano's e-bike-specific Nexus 5-speed hub with the superior power delivery of Bosch's fourth-generation CX drive unit. A Gates belt drive provides quiet, clean and maintenance-free pedalling. Powerful Shimano hydraulic disc brakes and grippy Schwalbe Marathon E-Plus tyres stop you on a dime, even in the wet. It's comfortable, too, thanks to the Suntour suspension fork, Byschulz suspension seatpost and adjustable Speedlifter handlebar. And you've everything you need for work, shopping or play thanks to mudguards, a semi-integrated carrier, lighting set and kickstand. Town travel just got easier. And better looking...
---
CUBE NURIDE HYBRID EXC (OFFROAD)
SRP £3,299 - 2 colour variants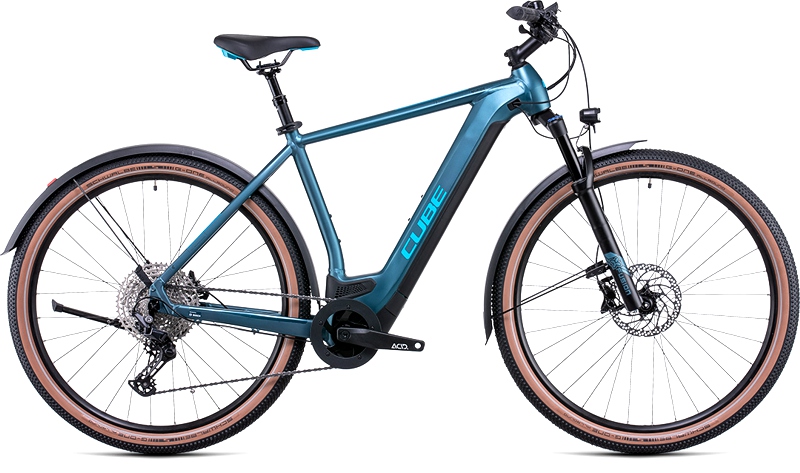 Details
We don't think you should compromise - on your ride plans, or on your bike. The Nuride Hybrid EXC Allroad's component list is all about performance, from the fourth-generation Bosch CX drive unit and powerful 625Wh battery to the Shimano Deore 12-speed gears and powerful four-piston hydraulic disc brakes. Combined with grippy Schwalbe tyres and a smooth, comfortable 100mm air suspension fork, it's your passport to adventurous exploring. A wide choice of frame sizes and configurations, plus an adjustable stem for the Easy Entry option, ensures you'll find the perfect fit. And we included all the accessories you're likely to need, from mudguards and lights to a handy kickstand.
---
CUBE ELLA CRUISE HYBRID 500
SRP £2,699 - 1 frame version, 2 colour variants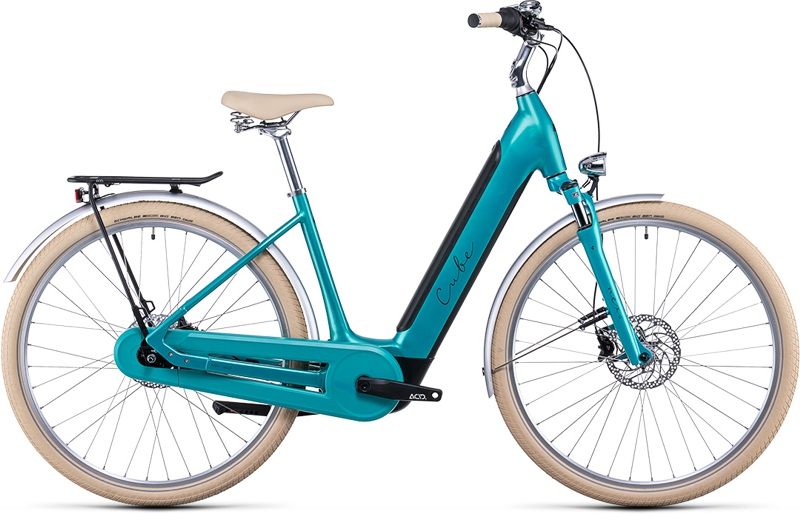 Details
The Ella Cruise's effortless elegance will draw your eye, but it's the comfort and practicality that you'll really fall in love with. Smooth, practically maintenance-free Shimano 7-speed hub gears mesh with the seamless power delivery of Bosch's drive system to make light work of any trip. Strong Shimano hydraulic disc brakes put all-weather stopping safety at your fingertips. There's a suspension fork to help iron out rough road surfaces. And a sturdy carrier, mudguards, kickstand and integrated light system are the practical finishing touches that make all the difference.
---
CUBE SUPREME SPORT HYBRID PRO 625 (OFFROAD)
SRP £2,999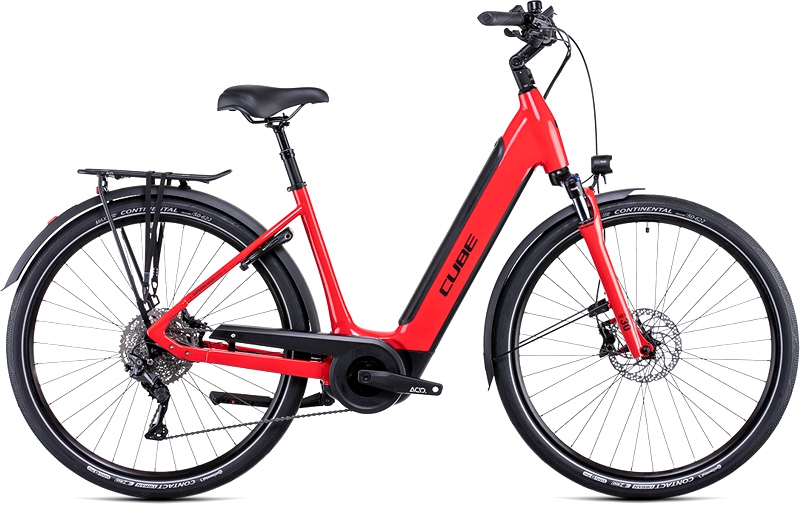 Details
An urban hybrid should slot into your life seamlessly. That's why, with the Town Sport Hybrid Pro, we included a semi-integrated carrier and a full complement of practical accessories, so you can just add your belongings and go. Easy-shifting Shimano 10-speed gears have a wide range which, combined with the smooth power delivery of Bosch's third-generation motor, will make light work of any route. Powerful hydraulic disc brakes - with four pistons at the front - and grippy, comfortable Continental tyres make it easy to slow and stop safely, whatever the weather. And the suspension fork - with lockout - and suspension seatpost help smooth the way on rough roads.
---
Mountainbike MTB
REACTION HYBRID SLT 750 29
SRP £4,299 - hard tail - 3 colour variants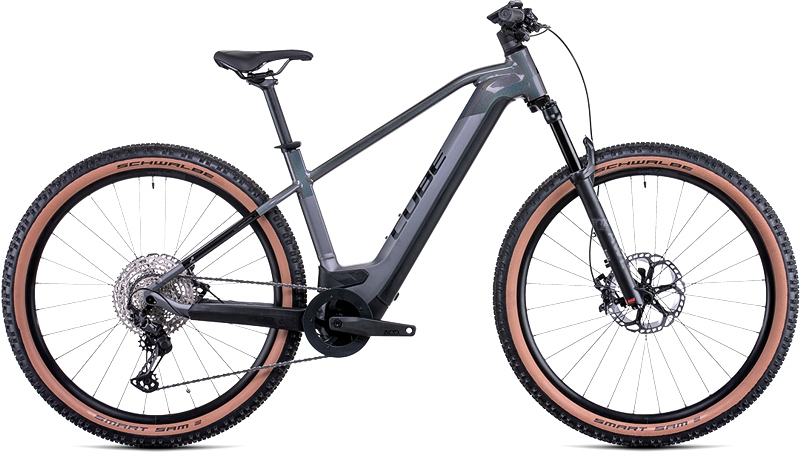 Details
Adventurous riding has never looked so attractive. Our brand-new Reaction Hybrid SLT 750 29 is built around a bigger-capacity 750Wh battery, so you can ride further. A Newmen wheelset with Kevlar-beaded tyres provides assured grip and miles of reliable service. Fourth-generation Bosch power is delivered with the precision only Shimano XT 1x12 gears can offer. And strong Shimano XT four-piston brake calipers ensure you're always in control. Where will it take you next?
---
CUBE REACTION HYBRID EXC 750 29
SRP £3,499 - Hard tail - 3 colour variants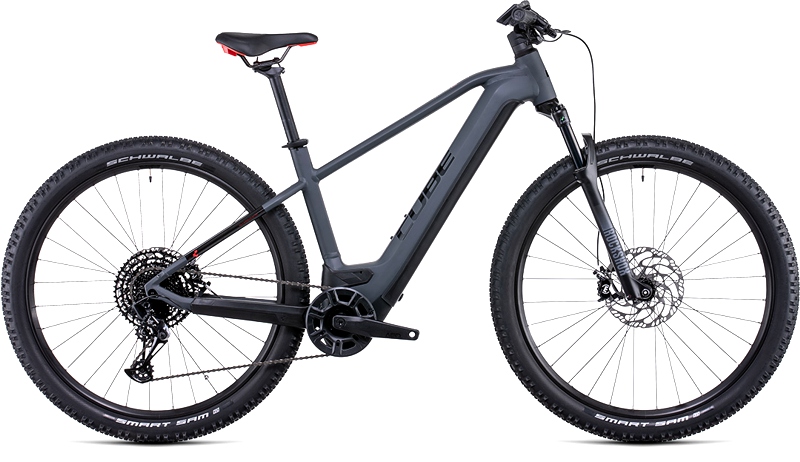 Details
A versatile hybrid mountain bike with even more range than before. With its high-capacity 750Wh battery, smooth Bosch CX drive unit and new Kiox controller, it's got even more range to take you to new places. The huge gear range of Sram's 1x12 NX Eagle transmission puts the right gear for any situation at your fingertips. We fitted four-piston Magura MT Thirty hydraulic disc brakes with large rotors for safe, assured stopping in all conditions. Add a RockShox Judy air fork with 120mm of plush travel, and you're all set for weekend adventuring.
---
CUBE REACTION RACE 625
SRP £3,299 - Hard tail - 3 colour variants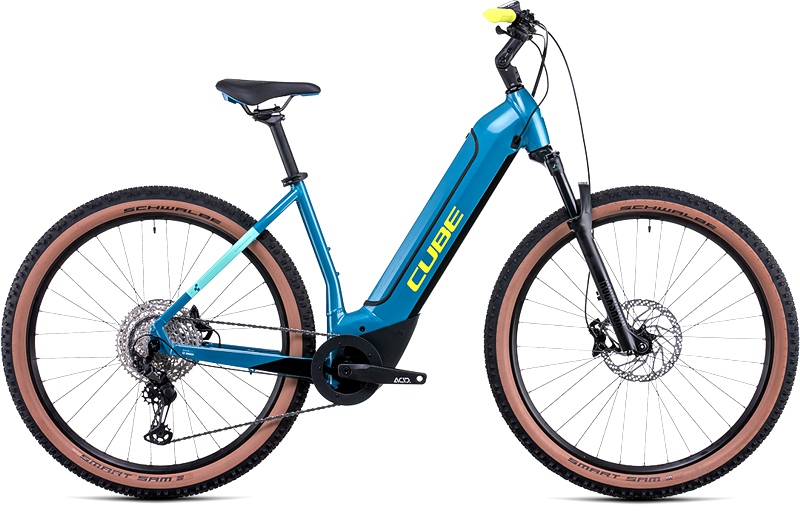 Details
With a 625Wh Bosch PowerTube battery, fourth-generation Bosch CX power and Shimano's legendarily reliable XT 1x12 gears, the Reaction Hybrid Race has what you need to broaden your horizons and take your riding to the next level. Powerful four-piston Shimano hydraulic discs work with 2.6in Schwalbe tyres to deliver epic stopping power, and the RockShox Judy Silver air suspension fork serves up 100mm of easily adjustable, buttery smooth, rock-swallowing travel. Get inspired, ride further, ride more.
---
CUBE STEREO HYBRID 160 HPC SL 750
SRP £4,999 - Full suspension - 3 colour variants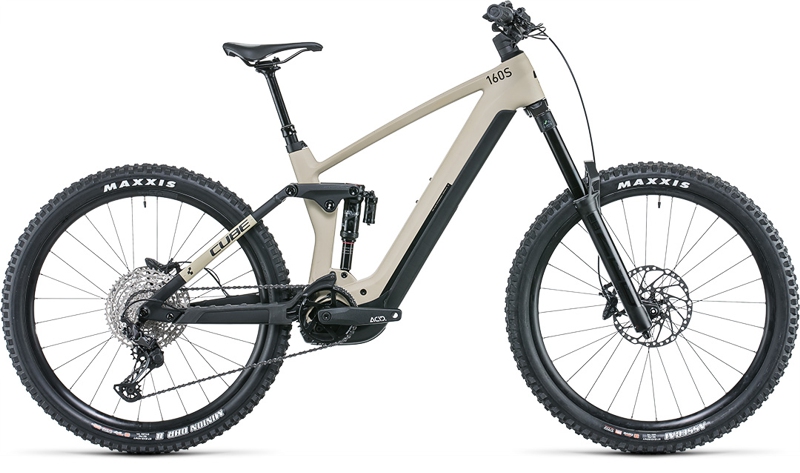 Details
This is the e-mtb that re-writes the rules. Powered by Bosch's fourth-generation CX drive system and a high-capacity 750Wh battery for more range than ever, our Stereo Hybrid 160 HPC SL 750's blend of gravity prowess and all-round trail ability sets it apart. The RockShox Zeb Select fork's bump-swallowing ability works with the Deluxe Select+ rear shock and carefully tuned kinematics to tame any trail. Shimano's legendary XT 1x12 transmission gives you the range you need to tackle any climb. And powerful, progressive Shimano hydraulic disc brakes - with oversize rotors front and rear - combined with a remote dropper post put you in full control. It's time to get your enduro on.
---
CUBE STEREO HYBRID 140
SRP £4,899 - Full suspension - 3 colour variants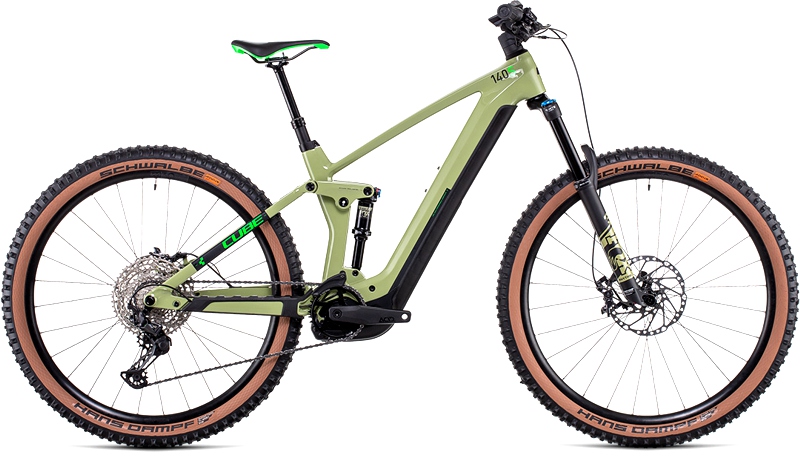 Details
A really great bike should just get out of the way and let you enjoy the ride. It's the reason that, for the brand-new Stereo Hybrid 140 HPC SL 750, we began by choosing a 150mm Fox 34 Rhythm fork and matching Float DPS EVOL shock. Combined with the Newmen wheelset and Schwalbe 2.6in tyres, it's the closest thing to a magic carpet ride. Bosch's fourth-generation CX drive unit and new high-capacity 750Wh battery delivers your power to the trail via Shimano's slick-shifting, super-reliable XT 1x12 transmission. And strong, progressive Shimano XT four-piston hydraulic disc brakes with oversize rotors bring you safely to a stop, on demand. With a remote dropper post thrown into the mix, you'll be wondering how you ever managed without it. Simply add your spirit of adventure.
---
CUBE STEREO HYBRID 120 PRO ALLROAD
SRP £4,099 - Full suspension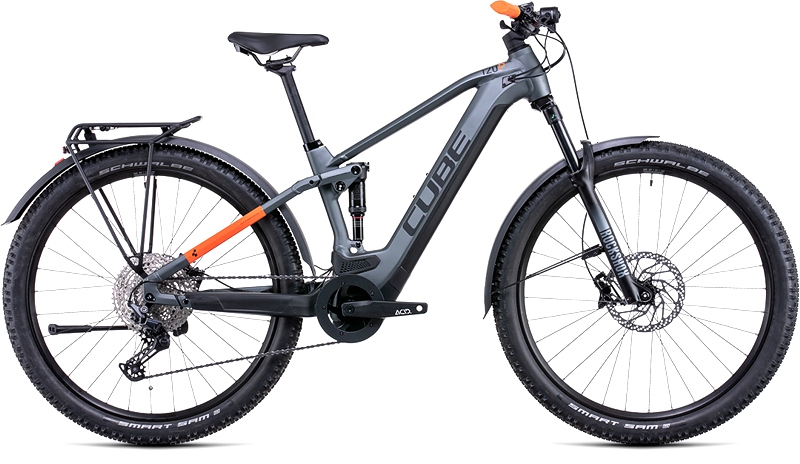 Details
It's the bike for all reasons - because the Stereo Hybrid 120 Pro Allroad can take on whatever you ask of it. We included mudguards to help keep spray at bay when the weather's bad, and a luggage carrier for the daily commute or an extended weekend tour. The RockShox fork and rear shock deliver 120mm of trail-smoothing travel and, thanks to our Comfort Geometry, you'll be right at home even for long days in the saddle. Powered by Bosch's proven fourth-generation CX drive unit and the precision and huge range of Shimano's Deore 1x12 gears, you also have the reassurance of powerful four-piston Shimano hydraulic disc brakes. If there's a journey this bike can't tackle, we can't think of it.
---
KIDS
CUBE REACTION HYBRID ROOKIE SL - 24"
SRP £2,399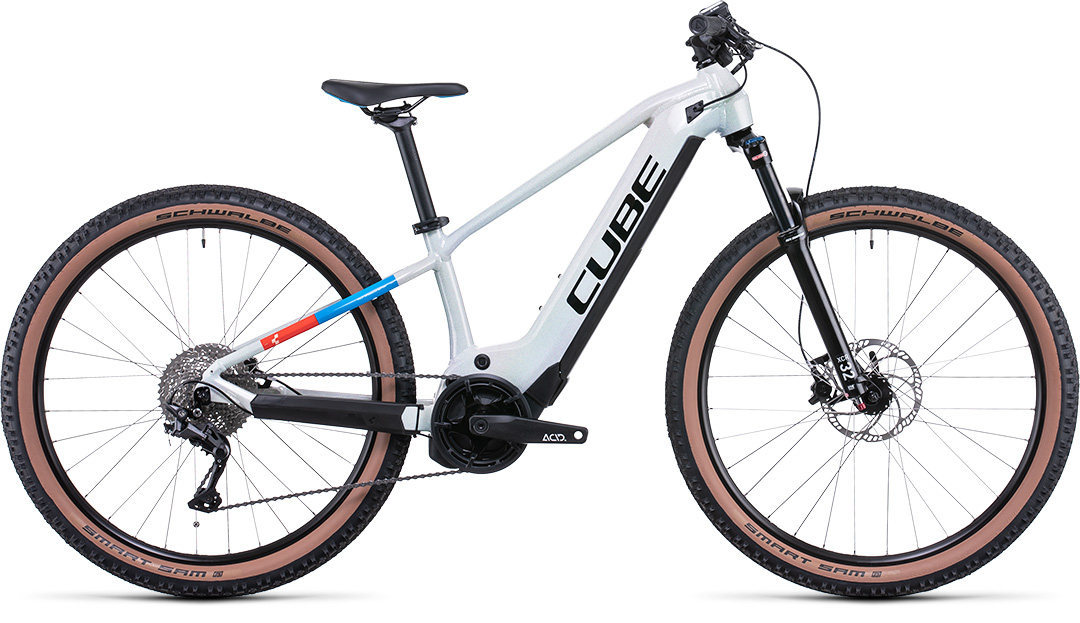 Details
The Reaction Hybrid Rookie takes all the race-inspired handling and performance of our adult Reaction bikes, and repackages it for keen junior riders. Powered by Bosch's third-generation Performance drive unit, there's plenty of juice to help your youngster keep up on longer family rides. Smooth-shifting, wide-ranging Shimano Deore 10-speed gears are easy to use, and they're backed by powerful Magura MT Thirty hydraulic disc brakes for safe stopping. There's a Suntour air suspension fork to help smooth the trail, and 2.25in tyres for grip and comfort. Just add a spirit of adventure, and go!
---
CUBE ACID 240 HYBRID ROOKIE SL - 24"
SRP £2,199 GREEN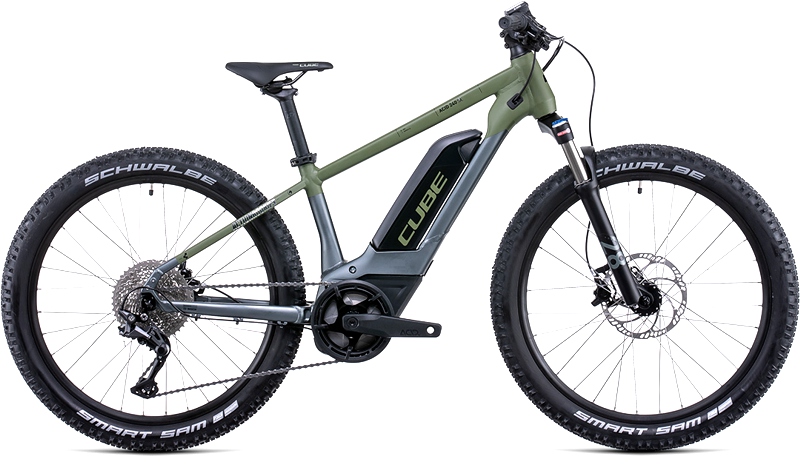 Details
Kids aren't daft, and there comes a time when they'll want a bike as good as mum and dad's. With the Acid 240 Hybrid Rookie SL, now they can. It features the same Bosch drive unit and battery as many of our adult hybrids, so your young rider has the power boost they need to ride further, faster and longer - good news for family outings. The Suntour air fork is easily adjustable to suit smaller, lighter riders - we even used a thinner handlebar and grips for better comfort and control with small hands. Shimano's 10-speed gears are super reliable and offer a great range, and powerful hydraulic disc brakes safely rein in any excess enthusiasm. It's good to go.
---
CUBE ACID 240 HYBRID ROOKIE PRO - 24"
SRP £1,949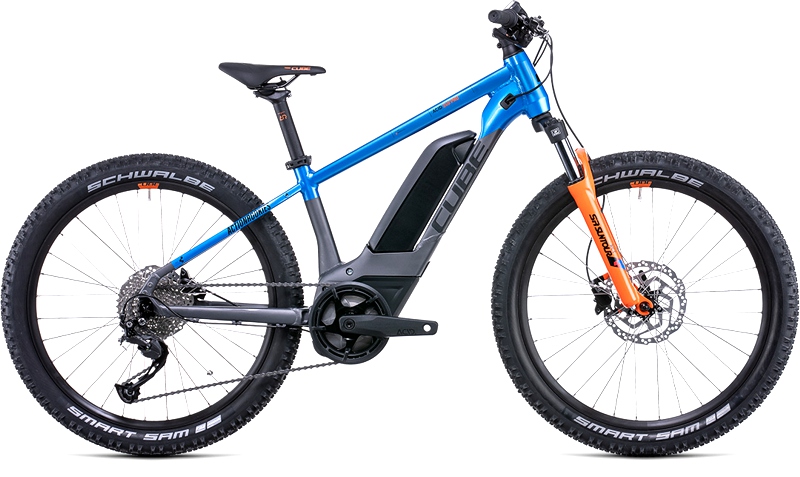 Details
The Acid 240 Hybrid Rookie gives younger riders an extra power boost, so they can tackle longer family rides and keep up with the grown-ups. Making use of the same technologies as our full-size e-mtbs, it features a Bosch Active drive unit coupled to Shimano's easy-to-use 9-speed gears. Suntour's XCT JR fork is designed specifically with younger, lighter riders in mind and helps smooth out the trail ahead. A kid-friendly cockpit and saddle make for a super-comfy ride position. And there's a set of powerful hydraulic disc brakes, for safe stopping. Put the spark back in your family rides...
---
This is just a small sample of what we can offer. All CUBE ebikes can be purchased from Chester eRoads so for more details, prices and availability, please telephone the shop on 01352 715716